Dino's Offline Adventure
You heard it right a new Gameboy game in 2018!
Dino's Offline Adventure is a port of the modern classic built into Chrome the web browser.

Built as our first Gameboy game and developed using the Gameboy Development Kit (GBDK) this simple game is even more of a challenge on the smaller Gameboy screen.
What does it cost?
It's FREE just download and play however we would always appreciate a donation to thank us for our many hours work lovingly crafting this.
Can I buy it a physical cartridge?
We are starting to put together a very limited run of 10 physical cartridges including a custom cartridge sticker. The image below is a prototype which should be representative of the final product, it uses a new Chinese made clone cartridge which are good but not quite as well moulded as the original cartridges.
If you are interested please get in touch gaming@gingemonster.com and we will contact you as soon as we have everything confirmed. If you donate to download today we will include that against the future purchase price so no reason to delay.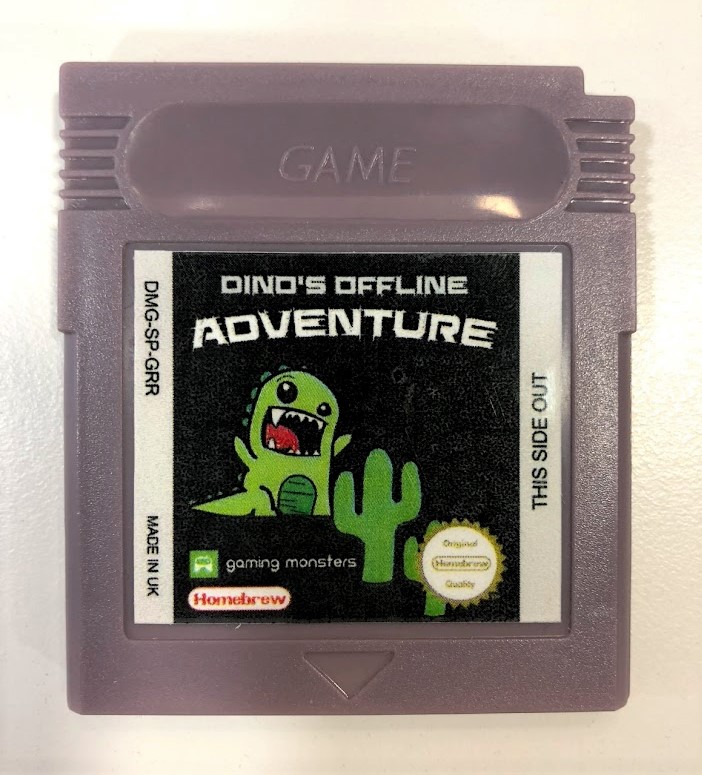 How can I play it now?
You can download the game and play either in various Gameboy emulators, the emulator below or for the best experience if you have ability to flash games to your own cartridge then on the real hardware.
It would be great if you can take a photo and share your hiscores on twitter and facebook with the tag #doahiscore extra points for it running on real hardware!
What are the controls?
Press any button at all to play the game on a real Gameboy or in the emulator below click with your mouse or press A, S, SPACE.
Can I see the source code?
Of course, this game would not have been possible without others who have shared there code (notably SheepItUp) so all the code is available at https://github.com/gingemonster/DinosOfflineAdventure.
Feedback and comments
If you want to give us any feedback or comments please do so via the comments on this page, gaming@gingemonster.com or twitter https://twitter.com/gamingmonsteruk
Copyright, usage rights and credit
Obviously this game is inspired by the one built into the web browser Chrome however no game assets were copied from the original. Any clip art and fonts used to make the game were available free for commercial use without credit.
You are free to download and use this game and source code for free but you do not have the rights to re-distribute or sell this game in any way without explicit permission.
Download
Click download now to get access to the following files:
dinosofflineadventure.gb
32 kB